In recent times, the department of the Nigeria Police Force known as Special Anti-Robbery Squad (SARS), has come under criticisms from many Nigerians who are calling for complete disbandment of the department. Many are of the opinion that SARS has outlived its importance owing to various cases of of extra-judicial killings, harrasment, extortion and complete violation of the fundamental human rights of ordinary Nigerians.
Day by day, the bad eggs among the officers continue to tamper with the rights of ordinary Nigerians. Despite the public outcry about the nefarious activities of some of the SARS officers, the police authorities have refused to to ban the department or take any proactive action to curtail the excesses of the SARS officers.
Today, an average SARS officer behaves like he is above the laws of the land. For this reason, many of them go about Killing, molesting, harassing, threatening and extorting money from innocent members of the public because they believe that they are untouchable and are even above the law of the land.
The latest victim of one of the SARS officers brutality in Ibadan is Citizen Ibraheem Ajomale. The only crime Ajomale committed against an overzealous SARS  officer at Dugbe office, was visiting a friend that was held in the station. This citizen who almost lost his life in the hand of one Supol Dapo, an officer of the SARS at the station had to beg for his life and parted with his hard-earned money before he was released.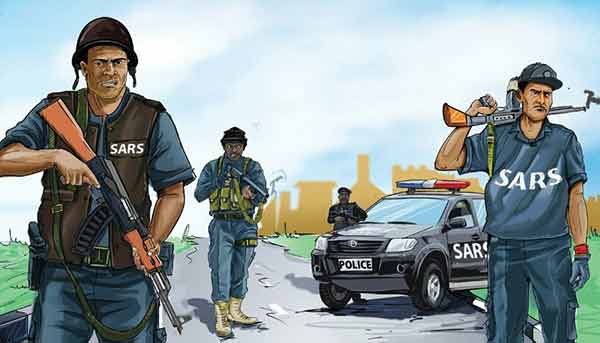 According to Ajomale: "I visited the SARS Police Station at Dugbe to check on a friend with the name Mukalia Olarewaju, who was arrested and detained. After paying the sum of 1000 Naira to be given access to see him, while waiting, I was approached by one Supol Dapo who asked about my mission in the station. I told him that I was there to see a friend in detention. He rudely asked if I was a lawyer and I said no, that was how he started beating me.
Speaking further, Ajomale said that while he was begging the overzealous Supol Dapo for his life, the officer who acted like a common criminal stabbed him in the face with an object.
"As he was beating me, I was begging for my life to be spared. I begged him but he refused to listen. After the beaten I was detained for over 3 hours after which I pleaded with one of them to plead on my behalf so that, I can go and treat myself  because of the serious beaten I got and also to treat the wound Supol Dapo intentionally meted out on me. I also pleaded that I'm a ulcer patient and I needed to take my drug before any meal, his colleague said I should just be just be begging him when he came back and which I did and was released.
Ajomale said that after he was released, he immediately went to Eleyele police clinic to treat himself but was asked to bring police report. "I immediately went to Iyaganku Police Station to report but the officer that attended to me refused to write the statement and claimed he cannot carry file against his fellow officer.
"It was after this unpleasant experience that I contacted my lawyer to write a petition and sent it to the office of the Commissioner of Police of Oyo state on the 20th of July. I got a call from my lawyer that we should report to the monitoring unit of the CP and I was asked to write statement which I did and to my greatest dismay they demanded for N50k from me as mobilization fee to look into the case".
The refusal of Citizen Ajomale to part with the sum of N50 as mobilization fee for gross violation of his fundamental human rights has deprived him the chance of getting Justice from an institution which should ordinarily serve as a platform for seeking Justice.
Today, citizen Ajomale is highly traumatized and lives in fear. He is however using this medium to appeal to Inspector General of the Police, Human rights watch, civil society groups in the country and Nigeria Bar Association to come to his aid as the officer, Supol Dapo of SARS Dugbe, Ibadan is threatening to kill him.