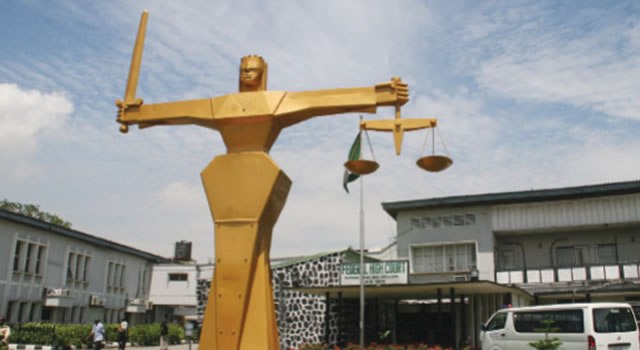 Simon Amobeda, a judge of the federal high court in Calabar, Cross River state, says the life Agba Jalingo, a journalist, is in the hands of the court.
Jalingo, publisher of CrossRiverWatch, a local publication, was arrested and charged with disturbance of public peace and treason for his writing and social media posts about Benedict Ayade, governor of Cross River.
When he appeared in court on Wednesday, Amobeda recounted what transpired during Jalingo's trial on the previous day.
"I told the young man (Jalingo) yesterday, your life now is in the hands of the court," the judge said.
According to the judge, Adeyinka Olumide-Fusika, Jalingo's lawyer, had walked out on the court during the ongoing trial on Tuesday.
He claimed that the lawyer, who is a senior advocate of Nigeria (SAN), was in the habit of shouting in the court.
"In the three times he appeared before the court, the first time he was to bring down the court, the second time he was gentle, the third time yesterday he was shouting on top of his voice. I refuse to be intimidated," Amobeda said.
The judge said the trial would go on whether or not the defence counsel chooses to withdraw.
Citing the case of Ken Saro-Wiwa, the judge said: "Late Gani Fawehinmi walked out on the tribunal in Ogoni matter. What happened? The matter went on and Ken Saro-Wiwa was convicted and sentenced to death."
The judge also said the defence counsel accused him of conniving with the prosecution.
He also revealed that he recently got a letter of threat with the name and address of the author included.
Jalingo was arrested following a report he published on how Ayade allegedly approved and allegedly diverted N500m meant for Cross River state Microfinance bank.
He is standing trial on charges bordering on conspiracy, terrorism, treasonable felony and attempt to topple the Cross River State government.
According to the judge, Jalingo's criminal case has a death penalty attached to it.
At the commencement of trial on Tuesday, Olumide-Fusika argued an application challenging the earlier order of the court October 23, 2019, which granted leave to the prosecution to mask its witnesses.
However, the judge said issues arising from the previous ruling should be appealed at the appellate court.
Journalists, as well as friends, family and supporters of Jalingo, were sent out of the courtroom at the commencement of the secret trial.