The vile far-Right terrorist who slaughtered at least 49 people in New Zealand was inspired by Anders Breivik and called for the deaths of Angela Merkel and Sadiq Khan in his twisted 'manifesto'.
Australian man Brenton Tarrant, 28, published a rambling document he called 'The Great Replacement' on the morning before he opened fire at two mosques in Christchurch on New Zealand's south island.
At least 49 people are believed to have been killed in the attack, with more than 40 also in hospital suffering from gunshot wounds.
The chilling 73-page manifesto lists his twisted grievances, why he picked the mosques in Christchurch and how he was inspired by Norway mass killer Anders Behring Breivik, who killed 77 in 2011.  He also cites Finsbury Park terrorist Darren Osborne in the document.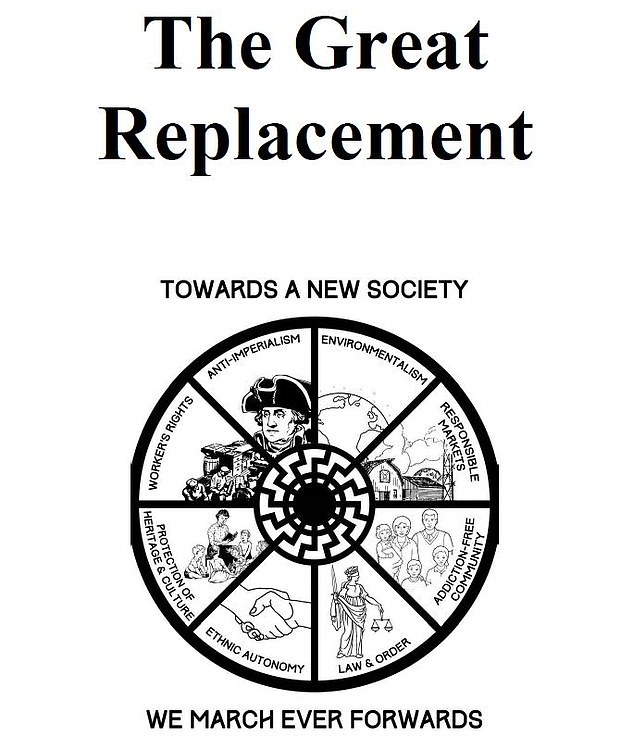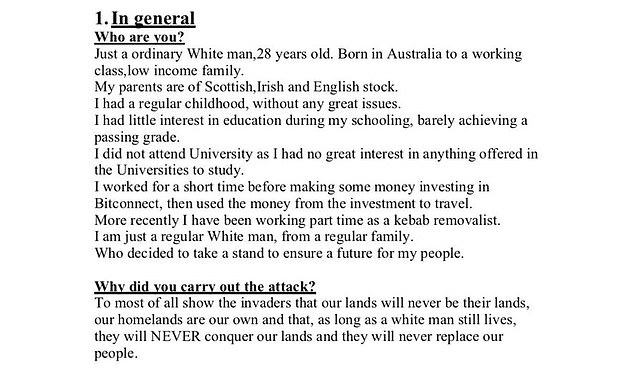 Among his muddled ramblings are rants about sex gangs in Rotherham and other towns in north England, and calls for the deaths of German Chancellor Angela Merkel, Turkish leader Recep Erdogan and London mayor Sadiq Khan.
Tarrant references previous terror attacks by Breivik, Dylan Roof in the US and Darren Osborne, who killed one in a van attack on a north London mosque.
He says he learned violence on the video game Fortnite and praises memes for spreading the language of the far-Right.
Responding to the document, Nick Lowles, of UK anti-extremism group Hope Not Hate, said today: 'The bloody terrorist attack in Christchurch was carried out by a far-right activist who has published a manifesto explaining why he did it.
'The terrorist's manifesto uses the stock phrases of the alt-right to justify murder, talking of 'white genocide' and citing spurious statistics about birth rates to explain away the savagery they have inflicted on people simply engaged in practising their faith.
'In so many places around the world, this violent ideology destroys lives and rips loved ones apart.
Tarrant also claimed he had been inspired to carry out the attacks as 'revenge' for a terror attack in Sweden that claimed a young girl, Ebba Akerlund, among its victims.
He described himself as an 'ordinary white man born in Australia to a working class, low-income family.'
'I am just a regular white man, from a regular family,' he wrote.
In the manifesto, Tarrant said he had 'little interest in education' and 'did not attend University as I had no great interest in anything offered in the Universities to study'.
London mayor Mr Khan tweeted about the attacks this morning, saying: 'When the flames of hatred are fanned, when people are demonised because of their faith, when we play on people's fears rather than addressing them, the consequences are deadly, as we have seen so sadly today.'
He said police patrols outside London mosques had been stepped up.
Turkish President Recep Tayyip Erdogan condemned the attacks as 'the latest example of rising racism and Islamophobia'.
Mr Erdogan said on Twitter: 'On behalf of my country, I offer my condolences to the Islamic world and the people of New Zealand, who have been targeted by this deplorable act.'
Germany's foreign minister said the attacks are a 'brutal crime' that touches everyone.
Tarrant said he initially planned to target a mosque in Dunedin, New Zealand but changed to the Al Noor and Masjid Mosques because they had more people
He also revealed he did not initially plan to carry out the attack in New Zealand at all.
'I only arrived in New Zealand to live temporarily while I planned and trained, but I soon found out that New Zealand was as target rich of an environment as anywhere else in the West,' Tarrant wrote.
'Secondly an attack in New Zealand would bring to attention the truth of the assault on our civilisation.'
The document uses the language of the far-Right, mixed with snatches of poems by Dylan Thomas and Rudyard Kipling.
He also claimed to be inspired by Candace Owens, an outspoken backer of United States president Donald Trump.
'The person that has influenced me above all was Candace Owens, each time she spoke I was stunned by her insights.'
Witnesses reported hearing 50 shots from his weapons including a semi-automatic shotgun and a rifle at Al Noor Mosque in Christchurch on the country's South Island.
The gunman live-streamed the mass shooting inside the Al Noor Mosque, which happened about 1.30pm (11.30am AEDT) as Friday prayers were underway.
A video seen by Daily Mail Australia shows the man firing multiple shots at dozens of people as they try to flee.
Mohammed Jama, the former president of the Muslim Association of Canterbury, said a man with a gun entered the Christchurch Mosque about 1.40pm local time on Friday.
A man inside the mosque at the time of the shooting said there 'bodies all over me'.
Witnesses inside the mosque reported seeing 15 people being shot, including children.
A man who escaped the mosque during the shooting said he saw his wife lying dead on the footpath.
'My wife is dead,' he said while wailing.
Witness Ahmad Al-Mahmoud described one of the shooters as being white, with blond hair and wearing a helmet and bulletproof vest.
'The guy was wearing like an army [suit]. He had a big gun and lots of bullets. He came through and started shooting everyone in the mosque, everywhere,' Ahmad Al-Mahmoud told Stuff.
'They had to smash the door – the glass from the window and the door – to get everyone out.
'We were trying to get everyone to run away from this area. I ran away from the car park, jumping through the back [yard] of houses.'