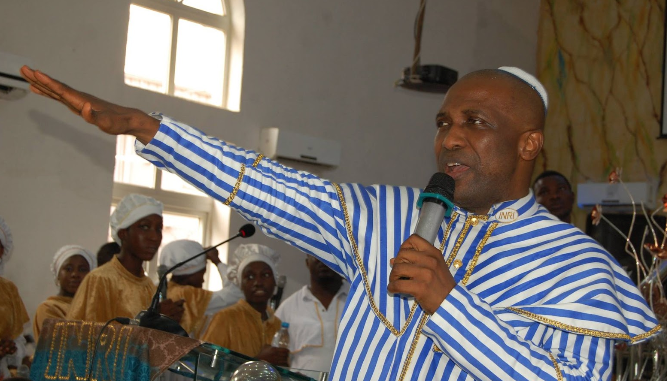 By Oluwaseyi Fadoro
Primate Babatunde Elijah Ayodele of INRI Evangelical Spiritual Church, Oke Afa Isolo, has advised Nigerian government to consider the rate in which people are being killed in the nation and that the government should endeavour to work with genuine men of God to get answer for the peace of the nation.
Primate Ayodele disclosed this to media during the Church Annual Appreciation Day& Thanksgiving celebration for the year 2020, that what is happening in our own generation had happened in the days like of the Bible and Quran, he said the only way the government of the days proffer peace to the Nation was done by consulting the genuine Prophet who sees the truth to help the nation and masses.
He said the Nigeria Economy is shaking to a large extent and affecting the masses whereby the President of the federation,Muhammadu Buhari should take a very bold step so fast to make peace reign because the whole Nigerians and the masses want peace and resist killings in the country.
He expressed that government needed to know the difference between the Pastors and Prophets that a Prophet is meant to lead and direct the nation in a right way to save the masses. He said Nigerians need not to be blind that the Pastors who are working with the government are stingy men of God.
Primate Ayodele emphasized carefully that he was not called to be a celebrating pastor but a man called to take care and advocate for the poor and could go any length to sell his property to satisfy the widows.
At the event, the Primate Ayodele encouraged multiple students with Jamb Forms and he empowered the needy with Tricycles so as to be self reliance in transportation business.
The Yoruba musician, Muri Thunder was honoured with an Award of Youth Ambassador for Peace, AKA Mr Tunji popularly known as Muri Thunder responded to wish the Primate A happy Birthday celebration and long live with his confession to dedicate his Award to his Fans globally and worldwide.
Others in attendance were ASP Ifeanyi Ohuruzo of Area M Police station Idimu Lagos state representing the Commissioner of Police and Executive Chairman for Isolo Local Council Development Area, Hon. Shamsideen Abiodun Olaleye represented by SLG and the Lagos state Governor represented by Hon. Elegushi and KWAM 1.