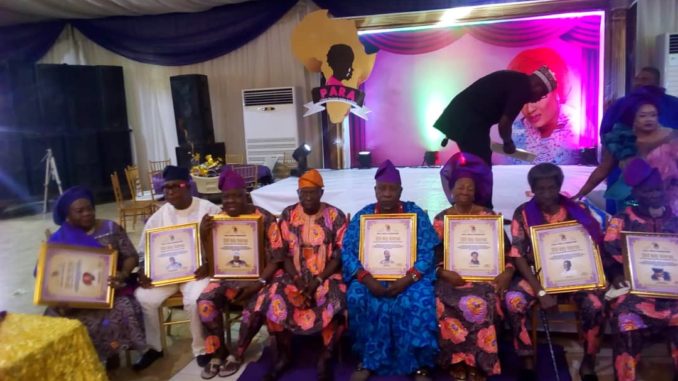 By Oluwaseyi Fadoro
Nollywood actor and actress, gathered together at Anchor Event centre Agidingbi Ikeja to celebrate with the veterans in the industry.
The event was organised by Para Africa Foundation which found by one of the most distinguished female actress in Nigeria Foluke Daramola-Salako in her speech, Para Africa is a non-governmental organisation, registered to operate as a non for profit humanitarian organisation in Nigeria.
This event is about building a social platform and also celebrate and honouring the old age and generation veterans in the theatre word and Nollywood industry in Nigeria, it is an initiative I thought about , when I discovered that many of the generation veterans in the industry are going absence from the activities of acting.
They are down with health problem, emotional and economic issues and many other issues without any existing concrete social or government platform to help them. This is why Para Africa the NGO which I'm the founder come up with this initiative to help our old ones in the industry.
In his keynote address Yomi Fabiyi urged the actor and actress to be feature the old ones in there film always so that
have they will sense of belonging in the industry. Veterans at the event are Pa Peter Fatomilola, Kareem Adepoju a.k.a Baba Wande, Kayode Odumosu a.k.a Pa Kasumu, Samson Oluwole (Jinadu), Lanre Hassan (Iya Awero), Idowu Phillips (Iya Rainbow), Chief Lere Paimo a.k.a Eda Onile Ola, Yinka Quadri, Oga Bello, among others were all present.
In his own reaction ,one the veterans who are honoured Baba Wande thanked the organise of the event for having them in mind. This kind of event has never happen before in Nigeria, may God continue to bless her and keep her family, I'm happy that am honour today.
In his own reaction too Chief Peter Fatomilola am happy that I'm honoured today many people have money even our leader they will not do it, Foluke honour us today despite of not having the resources, she will grow old and more impact in life.
The event was anchored by Grand Comedian of Federal Republic of Nigeria GCFR Gbenga Adeyinka and Wazobia FM famous Lolo1, young actors who present are, Yomi Fash Lanso, Ayo Adesanya, Arike-to-ta-lenu, Elewuola, Laide Bakare, Saidi Balogun, Bisola Badmus, Lola Margaret, Adeniyi Johnson and others.