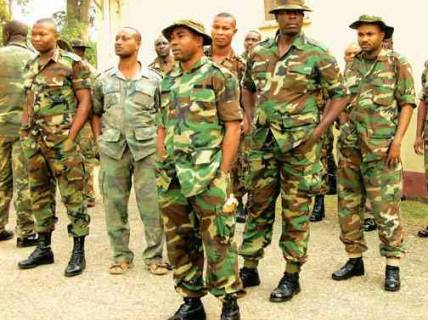 Some soldiers attached to the 7 division of the Nigerian Army attacked members of the Borno state COVID-19 committee, including two commissioners of Babagana Zulum, the governor, on Saturday.
It was gathered that trouble started after the vehicles conveying the soldiers and some civilians were stopped by the team enforcing the inter-state travel ban in Auno.
President Muhammadu Buhari had banned inter-state travel in May as part of measures to check the spread of coronavirus.
Kakashehu Lawal, commissioner for justice, and Salisu Kawaya-Buram his health counterpart, who are members of the committee, said the soldiers pointed guns at them even after they introduced themselves.
Lawal alleged that the soldiers forced their way into Borno from a neighbouring state, pulling down the barricade and allowing travellers who were not on essential duty to enter the state.
He said soldiers in three Hilux gun trucks, who claimed they were on a mission to repel Boko Haram attack on Gubio, deliberately rammed into a Rapid Response Squad (RRS) van which was used to block the road to prevent illegal entry.
He said the force with which they rammed into the vehicle made it somersault while all the four persons inside the van sustained injuries.
There are unconfirmed reports that one of the four persons on board lost his life at the hospital.